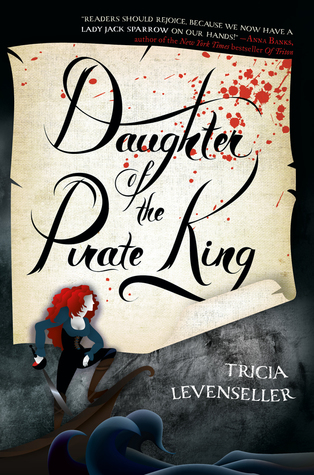 Title: Daughter of  the Pirate King
Author: Tricia Levenseller
Format: Audiobook
Narrator: Marisa Calin
Running Time: 7 hours, 25 minutes
TRIGGER WARINGS: Passing insinuated rape threats, brief attempted rape
Rating: ⭐⭐⭐⭐⭐
Goodreads Summary: There will be plenty of time for me to beat him soundly once I've gotten what I came for.

Sent on a mission to retrieve an ancient hidden map—the key to a legendary treasure trove—seventeen-year-old pirate captain Alosa deliberately allows herself to be captured by her enemies, giving her the perfect opportunity to search their ship.

More than a match for the ruthless pirate crew, Alosa has only one thing standing between her and the map: her captor, the unexpectedly clever and unfairly attractive first mate, Riden. But not to worry, for Alosa has a few tricks up her sleeve, and no lone pirate can stop the Daughter of the Pirate King.
I must say it's been a loooong time since I sped through a good book thiss fast, but I absolutely devoured Tricia Levenseller's debut novel, Daughter of the Pirate King. Filled with swashbuckling, adventures, and romance, Daughter of the Pirate King is the story of the Alosa, the fierce daughter of The Pirate King. Alosa is instructed to be purposefully taken captive by an enemy crew wwith the goal of finding an important artifact for her father. But the rival crew's alluring and charming firsst mate, Riden, keeps gettiing in her way.
I loved most everything about Daughter of the Pirate King. It's rare to find YA pirate stories–and when you do find books that at least claim to be pirate stories, they generally, in my experience, aren't the best. But Levenseller pulls of the perfect pirate escapade with ease! With snappy dialogue, endearing characters, and a fast paced plot filled to bursting with action, Daughter of the Pirate King is a wildly fun read!
Pirates And Peril
What makes this book so fun is the the non-stop adventure that takes place. I never got why YA pirate books are so rare because the chaotic nature of pirates means it would be difficult to drag–and Levenseller proved this theory right! Between general swashbuckling and Alosa searching for the map and all of the mischief in between, the story never stops! There really never was a dull moment. If you enjoy action and adventure, then this is definitely the book for you!
Fierce, Feisty Female Fighters
I think my favorite aspects of Daughter of the Pirate King was the fierce and feisty Alosa and the feminist themes her character conveyed.
Alosa is a badass all in her own right. Her father may be The Pirate King, but that doesn't stop Alosa from being a fearsome pirate with her own 97% female crew! Alosa is snappy, intelligent, strong, and a great fighter–and she won't let herself or anyone else forget it! She may have been posing as a captive, but never did Alosa question her own capability. Whether Alosa is fighting physically or having a battle of the minds, she dominates!
I love that Alosa's crew is all female save for two male pirates, who are assigned a minimal role. But Alosa's crew isn't just special in that it's made up of mostly women–Alosa has curated a crew of skilled, intelligent women. It's a lovely show of sisterhood and girl power!
There's also something about Alosa that I won't reveal that allows her to use a more feminine skill set to her advantage–without it being demeaning!
There are far too many feminist elements of Daughter of the Pirate King to list here (it would be a long list, trust me), but if you're a woman who's looking for an empowering read, this is most certainly a book to pick up!
The feminist nature of Daughter of the Pirate King doesn't prevent there from being plenty of swoon-worthy moments! And, boy, were they really swoon-worthy!
I loved Alosa's slow burn romance with Riden, the first mate who's assigned to interrogate her! Alosa never compromises herself, her dreams, or her abilities for him and he accepts that and doesn't push her to. Their flirtatious bickering was adorable (*squee!*)! Alosa never let Riden forget how intelligent she was, not once! As for Riden himself, I love that he wasn't the typical dark, brooding, brave love interest. Riden has his own complexities and flaws. Alosa and Riden complement each other in the best way possible!
All in all, I think I can confidently say that Daughter of the Pirate King is the pirate book I've been looking for! I loved it and had so much fun reading it and I'd absolutely recommend it! I give Daughter of the Pirate King 4.5 out of 5 stars.