A preface: Hello out there! It has been a while (as in…. 8 months), but I am excited to return to the world of book blogging. In the past year, I finished college, spent the summer abroad, moved to a new city, and started a new job. With all of these changes in my life, I found it really hard to find the time to write down my thoughts on books I've read or even find the time to read at all. At last, I am mostly settled into my new town and work life, I've been reading like crazy to try and get to my yearly goal of 100 books, and I am energized to get back into reviewing! To start getting back into the swing of things, I thought I'd discuss one of the most enjoyable books I've read in a long time: A Gentleman's Guide to Vice and Virtue by Mackenzie Lee.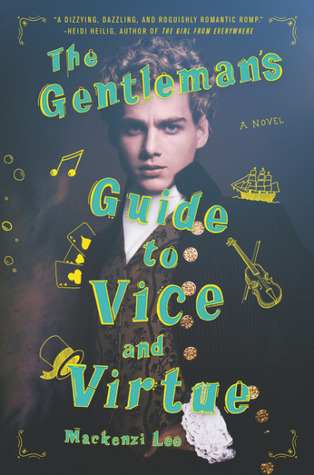 Rating: 5 Stars
Monty knows how to enjoy a good vice–liquor, gambling, and love affairs with both men and women. Lately Monty can't help but notice that all of his roguish adventures can't make up for the fact that he has fallen completely and utterly in love with his best friend Percy, whom he is certain could never love him back. At the cusp of being forced by his father to put an end to his pleasure-seeking and start taking his role as a gentlemen and heir of his father's estate seriously, Monty decides to take a tour of Europe with Percy. With Percy going his separate way after the tour, this is the last chance for the pair to engage in some good times debauchery. Monty's younger sister Felicity join the pair on the voyage to the continent, where she is being sent to attend finishing school even though she has more academic aspirations. Quickly, Monty's devil-may-care antics cause trouble for the group, causing them to flee across Europe in a journey that forces each character to reassess their relationships with the others.
More than anything, I would describe this book as fun. I had such a good time listening to Monty's escapades and internal monologues. At times infuriating for his recklessness and impulsiveness, because you just KNOW something is going to go awry, Monty never stops being a character you want to root for. Percy, a steadfast and gentle counterpart to Monty, is equally as charming. I found myself grinning like an idiot so much when those two interacted–especially when Monty couldn't keep himself from flirting. A begrudging companion, to the pair Felicity was such an interesting side character that I found myself wanting to hear more of her whenever she wasn't around. (Lucky for me, Lee is writing a companion novel about Felicity!) I was pleased to see that a book set in Regency era England to had diversity among the main protagonists–Monty is bisexual, Percy is biracial, and Felicity is passionate about science (yay ladies in STEM!). Nor are these differences glossed over, as at various points in the story the author makes it clear that these differences were received poorly among the peer and in society in general.
Though a wildly fun read, this book also has some deeper undercurrents about friendship, family, and acceptance of yourself. Monty struggles with a fair amount of self-hate, and his actions often cause tension in his friendship with Percy. Despite being siblings, Monty and Felicity are strangers when it comes to knowing personal details about each other. Over the course of the book, these relationships are challenged, hit minor and major snags, but ultimately develop in a way that felt very organic to the characters.
I listened to the audiobook and I must say that Christian Coulson did an incredible job with narration. His Monty was so endearing and a large part of the reason I loved the character so much. If you have the choice between reading or listening to this book, I'd highly recommend the latter!